Low Friction Polished ZrO2 Zirconia Ceramic Pulley
Zirconium ceramic pulley guide is always used for enameled wire or suitable-oriented silk thread, part of various types winding machines and textile machinery. The polishing level of groove can notch up Ra0.2 or higher, In the application, Ceramic pulley is matched with high-speed bearings, the baffle on the both sides can prevent enameled wire out of the slot, while the winding tension can maintain consistently.
The items are served in the chemical fiber machinery before spinning and after spinninge quipment with A95, A99 alumina engineering ceramics and titanium oxide guide wire device and engineering plastics, including winding head -rabbit head, paper tube chuck, network wire nozzle, import filter sand and suction wire gun.
Prime features of zirconia ceramic
- Greater hardness than Al2O3 ceramic guide components
-Corrosion resistance: withstand various harsh corroision enviroment, the corrosion resistance for zirconia oxide parts is far superior to metal ones.
-High polished surface: It's more easier to polish the working surface to be ideal effect, then help to reduce the friction a lot and extend the service life.
The application of zirconia ceramic
The products are widely used in electrical, electronic, chemical, railways, textile machinery,chemical mechanical winding machine, wire and cable machinery, burners, fishery machinery, Tin Machine, wire drawing machine, construction, oil and aerospace industries in various fields.
Company presentation
We, at Jinghui Industry Ltd is a leading advanced ceramic components' manufacturer in China over than 15 years.
The selection manufacturing methods include dry pressing, hot pressing, isostatic pressing, ceramic injection molding, extrusion with selection of materials. Also we have our own comprehensive high precison processing and firing production line. Such as metallizing, glazing, fine grinding, CNC machining, laser cutting and so on.
The quality products come from art of state of manufacturing processes, also it's in need of advanced inspection tool. The main inspection equipment include CMM, projector etc.
With our reliable products, professional service and good credit established with customers, we have been exporting our products to Europe, North American, Asia, South American, South African over than 50 countries.
Our advantage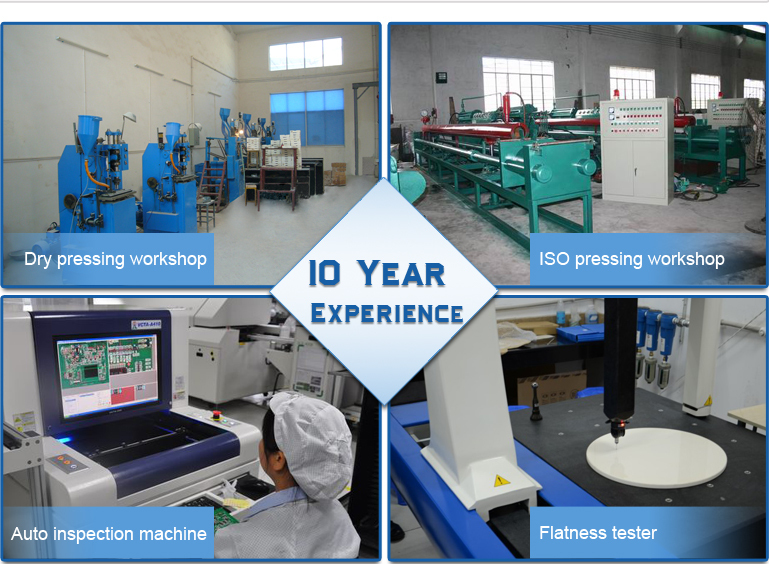 Contact information