Marine Museum Animal Key pendant, a total of seven items. Lovely shape, with a strong decorative, modern women hang on bags on the fashion accessories. It is the ornament hanging on the key buckle by the masses. It is a toy for children to play with their wisdom. It has a wide range of applications. Hanger position nail is firm, through tension test. The seam position is tight, and it won't burst. Hand position, fine stitching, not off-line. Its main materials are wool fabric and polypropylene cotton filler. There are four main types of plush fabrics. The first common yarn, made of BOA material, can be divided into light yarn, usually straight yarn, and can be divided into yin and Yang yarn in different directions. And matte gauze is matte color, basically without both yin and yang. The second kind of yarn is called special yarn. It has sheets and long short wool. The length of wool is controlled at 4-20 mm. The third kind is called wool, wool grows in the range of 20-120 mm, can do any wool growth in the range of 20-45 mm, more than 45 mm is only 65 mm and 120 mm, belongs to long hair, wool is straight, not easy to curl. The fourth type is curly hair, usually granular hair, wool or curly hair. Polypropylene cotton, commonly known as baby cotton, hollow cotton, also known as cotton, chemical fiber man-made materials polypropylene, polypropylene (a plastic optical density, special attention to polyester can not be confused) from the technological differences: mainly hollow fiber and two kinds, respectively: good elasticity of products, smooth feel. The Plush key chain produced by our company is beautiful and generous, durable, three-dimensional, bright and compact. Products can be made according to customer requirements of different specifications, colors, thickness, grade, packaging, etc. Marks can be customized, is a good choice for promotional gifts. Mini cute key pendant can not only decorate your life, but also highlight your nobility. What kind of gift can a person's key chain use to see his personality, life and hobbies, but also see who can bring you good luck.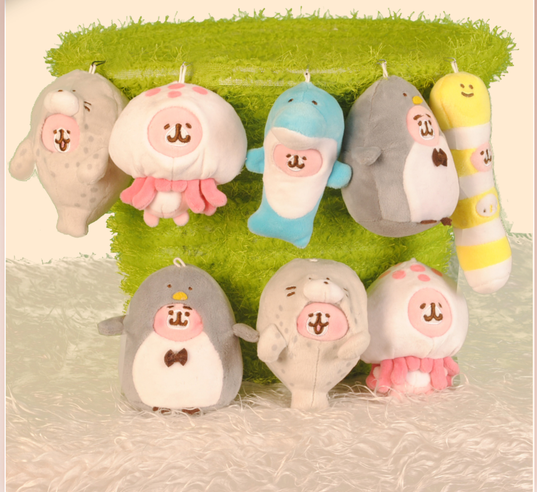 Essential information:
Classification: Plush Pendant Product name:Sea museum animal key pendant
Modelling category: Animal The fabric : Crystal super soft
size: Customizable Filler: PP cotton
Cloth introduction: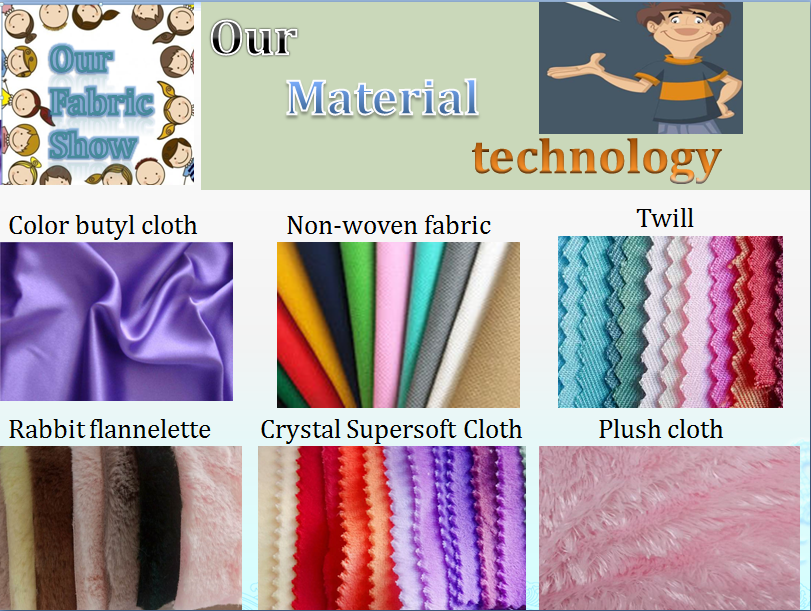 1.Yarn-dyed cloth: the structure of the silk thread is well shaped. The appearance is similar to 5 pieces of satin and 8 pieces of satin. The density is better than 5 pieces of satin and 8 pieces of satin. Specifications are generally 75 * 100D, 75 * 150D and so on. The raw material of tinted cloth: it can be cotton, blended or polyester, or pure chemical fiber, which is formed by the different organization of the fabric. The product that lubricious ding bu makes popularity is wide, glossiness drape feels good, feel soft. Elastic colored butyl cloth "adopts polyester FDY dayou light 50D*DTY75D+ spandex 40D as the raw material, and USES satin weave weave in the jet loom. Because the warp thread adopts dayou light silk, the cloth surface has charm, and occupies a place in the recent fabric market with the advantages of lightness, smoothness, elasticity, comfort and luster. Polyester low-elastic silk is the raw material, the fabric structure USES satin plain grain to change the texture, woven on the air jet loom, grey cloth and then after desizing, pre-shrinking, softness and other treatment, the fabric permeability is particularly good, and feel soft and smooth, fabric width is 150cm. Design and color d set comfort, modern sense, artistic sense in one of the new fabrics
2. Non-woven fabrics: They are directional or random fibers. They are a new generation of environmental protection materials. They are moisture-proof, breathable, flexible, light, non-combustion-supporting, easy to decompose, non-toxic, non-irritating and colorful.
3. Twill: various twill fabrics are used to make the surface of the fabric show oblique lines formed by warp or weft floating lines. Twill is a medium thickness denim, there are two kinds of thick, fine (20-40 pieces), are using 2/1 left twill organization, texture than plain cloth slightly thick soft, front lines clear.
4, rabbit wool: rabbit wool fiber scales are relatively smooth. Soft sex, hygroscopicity, do not have a ball, also be rabbit flannelette material underwear rises in recent years one of main reasons. Rabbit hair belongs to amino acid protein fiber, which is similar to the composition and structure of human skin, has a good skin-friendly feeling, and has the function of maintaining animal life.
5,Crystal ultra soft: crystal super soft wool surface to be more delicate, feel better. High density between fibers, strong three-dimensional sense of hair, beautiful appearance, compared with the original super soft, glossiness is higher, feel more soft and thick, fine texture, environmental protection and so on.
6,Plush:wool fabrics have a velveteen, velvet, velvet, cluster flannelette, polyester silk fabrics flannelette flannelette, knitted fabrics, cotton fabrics flannelette velvet, velvet fabrics, warp knitted fabrics flannelette (new varieties, with 50 d polyester yarn and polyester FDY such DTY75D / 36 f/strong mesh as raw material, using the knitting chain structure, fabrics successively after scouring desizing, finalize the design, dyeing, softening, stenter stereotypes, such as deep processing), hole ring flannelette, super soft plush cloth (the latest varieties), short plush cloth (the latest varieties)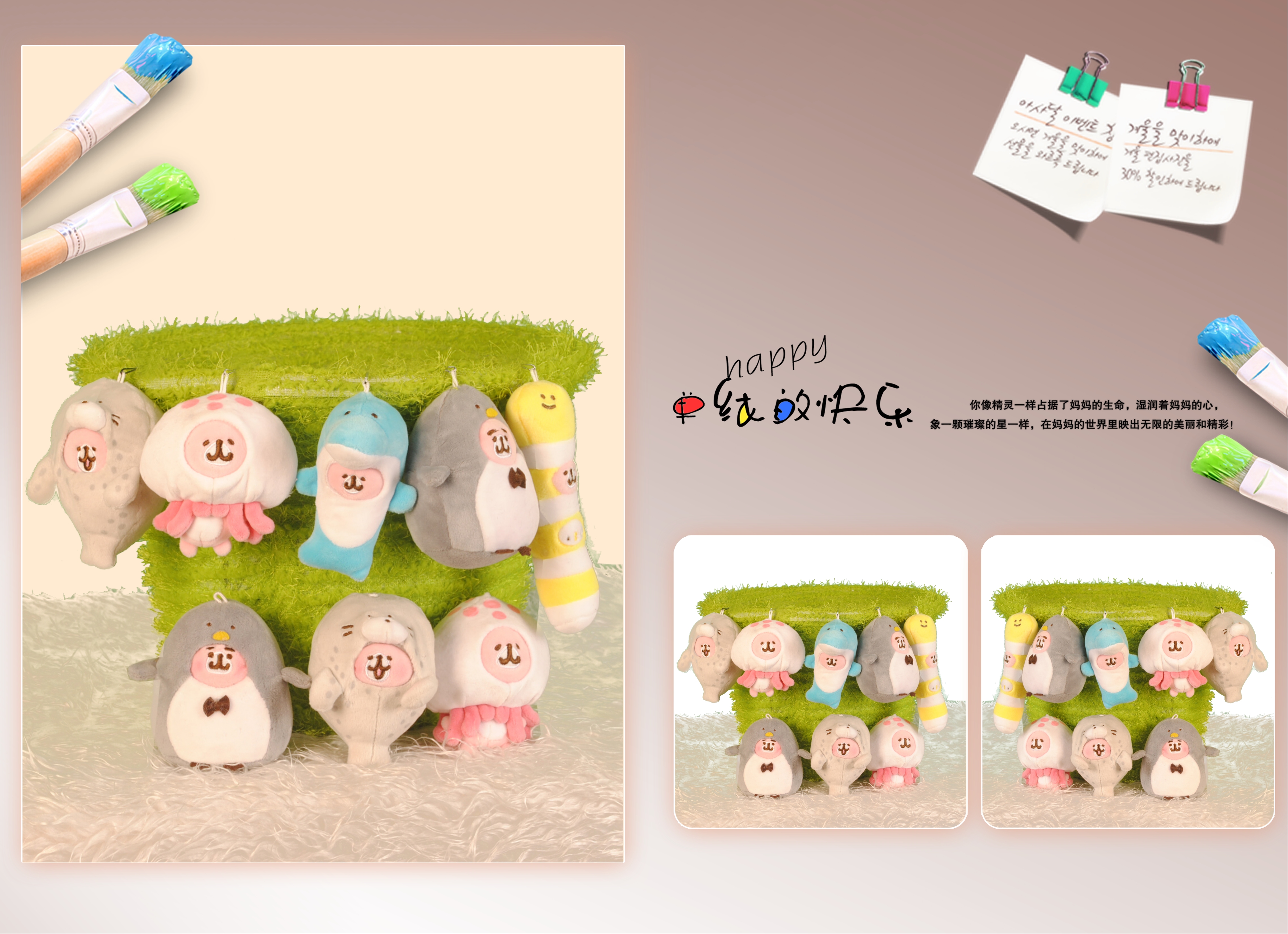 Major description:
1. Cloth ordering: in modern society, there is a clear division of labor, and manufacturers have their own responsibilities for the manufacturing of cloth and the production of doll products. Production problems tend to occur in non-factory processes. For this reason, it is particularly important for us to control the quality of materials. We strictly select several fixed material cooperative factories, which not only ensure the richness of material color, but also control the stability of material quality.
2. Making knife mold: the time required for making the knife mold of plush dolls is short, and it only takes a few hours from the start of making to the official use of the knife mold. Come on! Low price! Fashion! It has become an important factor for most companies to choose plush dolls as promotional gifts, conference gifts and event souvenirs.
3. Fabric opening: there are four ways to open the plush doll: punching machine, laser, electric shearing, and thermal shearing. Punch material opening needs to unfold the whole roll of cloth lamination first. The more layers there are, the lower the material opening cost will be. In the industry, generally, the 28 to 33 layers shall prevail. The factory will be subject to the 28 floor, in each process in strict accordance with the standard implementation to ensure the large cargo and sample effect of the anastomosis.
4. Electric embroidery and silk-screen printing: electric embroidery and silk-screen printing are the main presentation forms of logo or pattern on the customized figures; Silk-screen printing is a printing process, most of the cases are not necessarily electric embroidery looks high-grade. However, electrical embroidery cannot completely replace silk screen printing. For example, small and complex patterns or logo electrical embroidery cannot be realized. Only silk screen printing can show fine and clear patterns. For example, some parts of the requirements to make patterns at the same time to avoid the hardening of the parts affect the appearance (electrical embroidery will lead to the hardening of the parts), then also need to choose the process of electrical embroidery to show the logo or pattern. Of course, we don't have to worry about which process to choose to show our logo. We will provide professional solutions according to the actual situation.
5. Stitching and cutting: stitching is a process of stitching all cut pieces together, which is one of the most important processes in all processes. Whether the sewing process is strictly in accordance with the standardization will directly affect the smoothness of the appearance of the doll; Our factory has established strict sewing standards. A. Sewing seam 45 mm, uniform stop, needle spacing 12 inches. B. Fine needle with 11# needle and 402 fine thread. C. All point positions and bone positions must be aligned and shall not be exploded.
6, rolling cotton: cotton seems to be a simple process, in fact, is a very important process; Indeed, it is very easy to learn cotton, a new master as long as five minutes can learn to cotton. But it's not easy to do the simple job of making cotton well. Cotton is not only to cotton into the doll's shell inside, cotton also needs to be flushed evenly, to ensure that the finished product is a round full appearance. Simple things can be repeated to become an expert, to become a cotton expert needs at least three years to accumulate; And I plant all the cotton puncher is more than five or six years of experts.
7, sewing manual: sewing, manual, is the final process of plush toys finished products; Each doll in the cutting stitching stage will leave a position without stitching, the position is commonly known as leather or cotton left mouth position, as the name suggests is reserved for leather and cotton. And this position can only wait until the cotton is finished after the manual suture.
8. Product quality inspection: the product quality inspection is the last quality control link. After the product passes the quality inspection, it becomes the final product to be delivered to the customer. As a product quality inspector, I need not only the carefulness to find out product defects comprehensively, and the technology to repair defects, but more importantly, a sense of responsibility and a mindset that customers will not be satisfied if I am not satisfied.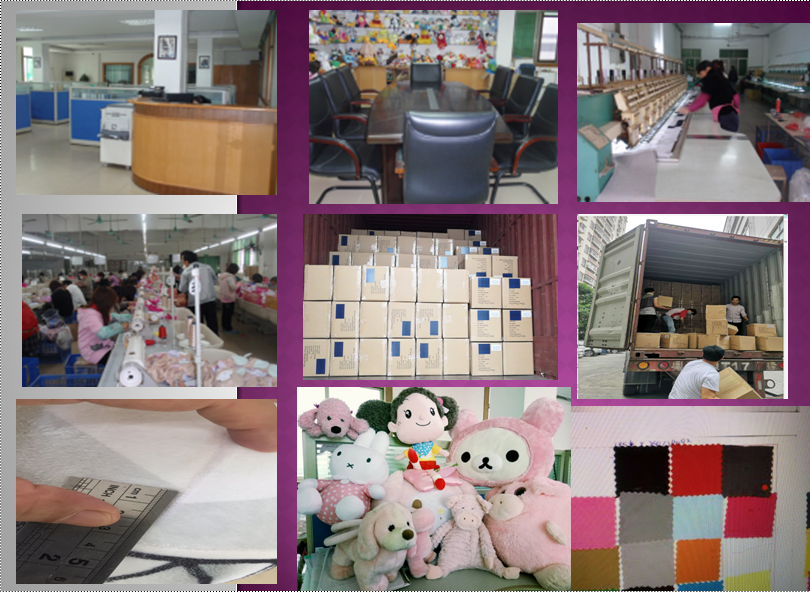 Delivery and after-sale
Genuine promises: All our products, quality assurance, please rest assured to purchase orders.
About the delivery date: We have a strong team to serve you, to ensure that customers order the delivery date.
About packing: We use punched plastic bags to prevent children from danger. The material of plastic bags can be provided by customers. We can produce them as required. Cartons, colour boxes and other packages can be customized according to customers'requirements.
After-sale service:If there are any quality problems in our products, we can unconditionally replace them.
The company's products with environmental protection materials, excellent workmanship, all kinds of supporting facilities, advanced technology, perfect management, excellent quality, reasonable price, rapid development, strict confidentiality, complete after-sales service. Only detailed product drawings (or samples) are required to provide customers with one-stop service from development to after-sales service.
Map customization:We have professional designers who can design according to your requirements. You only need to provide pictures of toys (physical objects or floor plans) to customize the products you want.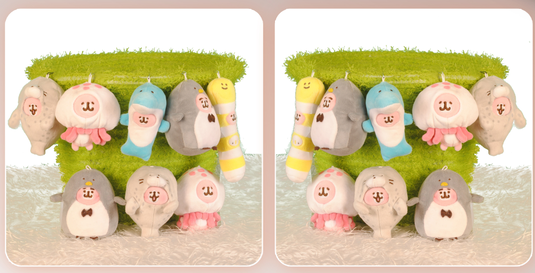 Warm prompt:Matters needing attention
1. Avoid food and beverages: if food and beverages remain on plush toys, they will attract a lot of dirty things, such as cockroaches, mold, etc., making plush toys dangerous goods;
2.avoid dust and humidity: plush toys if dust accumulation is serious, or in a humid environment for a long time, it is easy to breed mites bacteria mold, serious harm to people's health;
3. regular cleaning: plush toys need regular cleaning, so as to effectively inhibit bacteria and other harmful substances harm health. Or put it in the sun for a weekend to kill bacteria.
4.Plush toys must ensure that their internal fillers must be non-toxic and harmless, the main method is to observe the appearance of plush toys when choosing toys, the grade of raw materials is an important factor in determining the quality of plush toys; secondly, attention should be paid to the internal fillers of plush toys, good filled cotton feels like down clothes, very soft and uniform, and there will be no foreign bodies. Feeling and hard material sense; once again to see whether the small accessories are firm, toy eyes. Nose and protuberance need to bear a certain pull, and finally to recognize the product trademark.